Although we split our specialisms up into three key sectors, we often find that they naturally complement each other, meaning clients usually make use of more than one of our services.
So, if you are a haulage company whose regular driver is attending one of our training courses, you can avoid any downtime by appointing one of our fully trained drivers and their vehicle on a temporary basis to keep up with operational demands.
Let us find a combination that's perfect for you, and deliver a complete tailored solution for your business.
Reynolds Logistic Services have been operating form our centralised site in Nottingham for over 9 years. Based within easy access of all major road networks, we are ideally placed to offer full UK coverage. Our 24 hours, seven day week operation provides a variety of services dedicated to our client's needs and requirements. Inclusive of warehousing and distribution.
Our attitude has always been about working together with our clients to ensure we deliver their service needs.
Over the years, we have seen our fleet grow organically offering a multitude of logistic disciplines throughout the UK and mainland Europe.
The Reynolds fleet comprises of modern equipment, ensuring our carbon footprint is a low as possible with additional safety and comfort features offering our drivers an enjoyable working environment.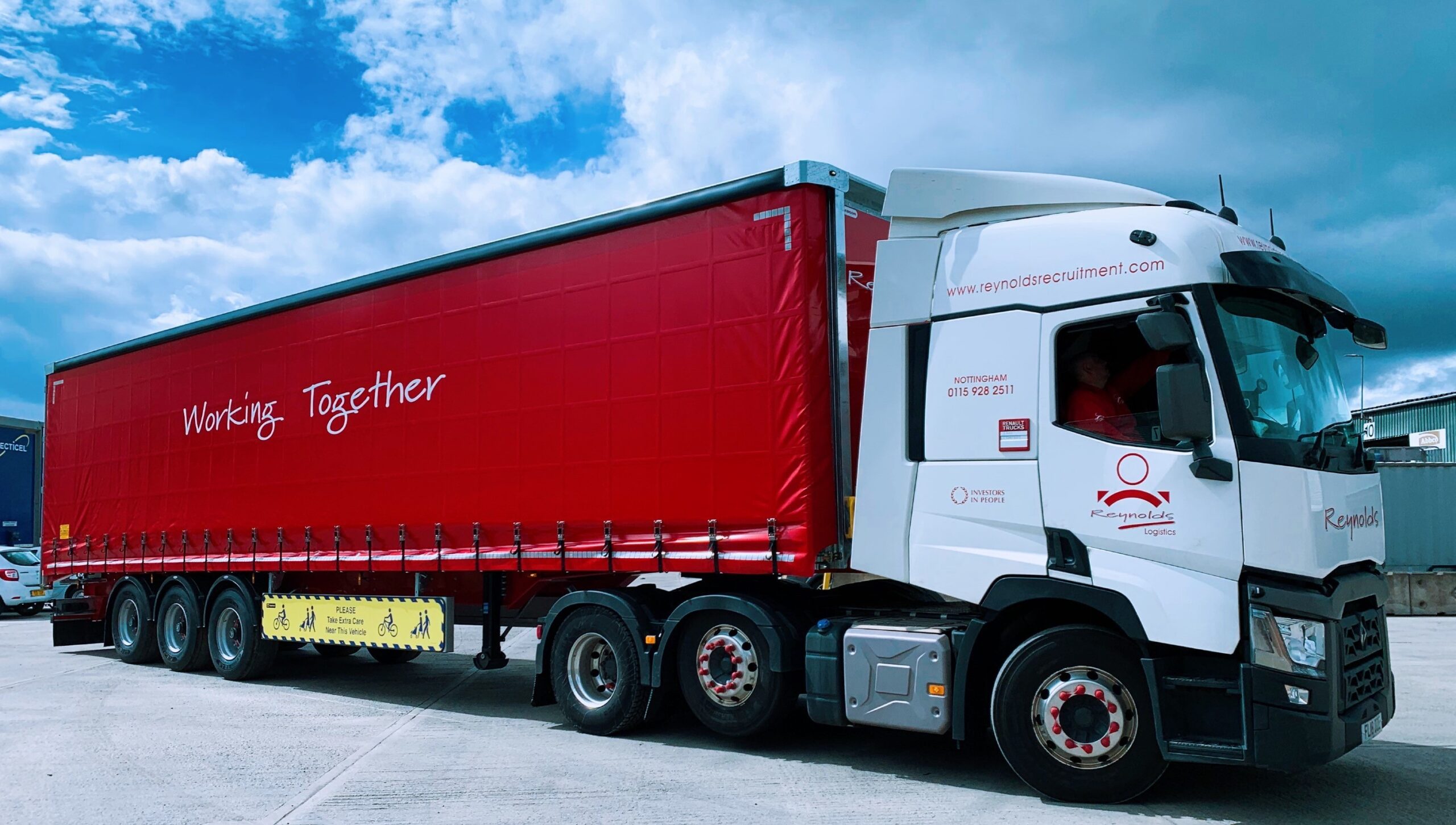 As an accredited and proud silver member of the Fleet Operator Recognition Scheme (FORS) we prioritise not only the quality of our services but also safety, efficiency and environmental responsibility. 
All equipment is tracked with Tom Tom technology as well as full camera technology including forward and rear facing cameras with on onboard monitoring for the driver. Our vehicles also meet the Transport for London Direct Vision Standard, enabling us to deliver anywhere inside the M25.
With in-house training readily available, our staff receive on-going CPC training as well as full ADR accreditation. Additionally, Transport Management CPC Training for our own office staff to ensure a greater understanding of the industry.
We pride ourselves on our relationship with our partners – our aims to stay abreast of new technology, industry legislation and employee satisfaction comes from a true passion of our industry – one we are all proud to be a part of.
Please feel free to contact our team to discuss any requirements you may have regardless of size, location or longevity.
"I first started with Reynolds doing agency work which I really enjoyed so, I asked them if they would take me on the books, which they did. They were extremely helpful in my needs. The salary is very good and as a family company, look after everyone well, they are very down to earth and approachable and go out of their way to help you. I enjoy working for Reynolds".
Stuart Page – Class 1 driver
"Reynolds Recruitment are a lovely company to work with. We have been using their class 2 drivers on a regular basis for quite some time now and would highly recommend their services to anyone. Gaynor and Sarah in the office are extremely helpful and very friendly and always try to help fill our requests."
Regards
Kate Carroll – Office Manager
R Whitehead Concrete Ltd
"We have worked with Reynolds recruitment for a number of years, they have provided quality drivers on a temporary and temp to perm basis, they are extremely helpful and provided a great calibre of drivers. We aim to use Reynolds recruitment for many years to come".
Terry Conquest – Transport Manager
Johnsons Aggregates and Recycling
"Reynolds Recruitment has been Premier Reel Paper's main agency supplier for the last 5 years. The team are very helpful, knowledgeable, rarely let us down and are quick to act".
"They cover Class 1 & 2 on days and nights and the drivers they supply arrive on time & act professionally. They also offer a transport service so if they can't supply me with a driver they can usually help with delivering in some way".
"I would highly recommend Reynolds Recruitment"
David Stone – Warehouse Manager
Premier Reel Paper
"We have now made Reynolds our number one supplier for temporary drivers on both our home delivery and trade vehicles. Thanks for all your help Reynolds and well done – keep up the good work!"
– Susan Kidsley  | Rangemaster part of AGA Consumer Products Ltd
"I have been using Reynolds to provide covering drivers for many years now and have received excellent service all round.
Reynolds have always helped out at short notice and always ensure that the drivers are of good standard and get the job done.
Excellent company to deal with who do everything possible to help out"
Liam Beastall – Service Centre Manager
Smiths Metal Centres
"Everyone who works in the transport industry is aware of the stresses and hard work that it entails. A huge part of my role as Rental Manager is ensuring that vehicles are collected and delivered. Reynolds have always tried exceptionally hard to meet any requirements I have had, no matter how last minute! The office staff have always been efficient and helpful, and the drivers have always been courteous & professional. This is the exact reason Reynolds are always my go to when in a sticky situation!"
Martyn Sheridan – Rentals Manager
Hexlease
"Reynolds is an exceptional recruitment agency. Gaynor has been extremely helpful throughout the whole process, securing me regular work. She is always thorough and has kept in touch with feedback and updates. Gaynor is very professional and a pleasure to deal with. I would highly recommend Reynolds recruitment as I have really enjoyed working with them. If you want a good driving agency to work for, look no further".
Richard Clark – Class 2 driver